The Descendants of the Rev. Gerald Butler Beere, born 1796.

First Generation
---
1. Rev., Gerald Butler BEERE [9792] was born in 1796 in Dublin Co. Dublin Ireland and died in 1876 in Adare Limerick Ireland at age 80.

General Notes: Rector, parish of Kilbixi, Ballynacargy, Westmeath, Ireland.
Prebendary of Limerick Cathedral.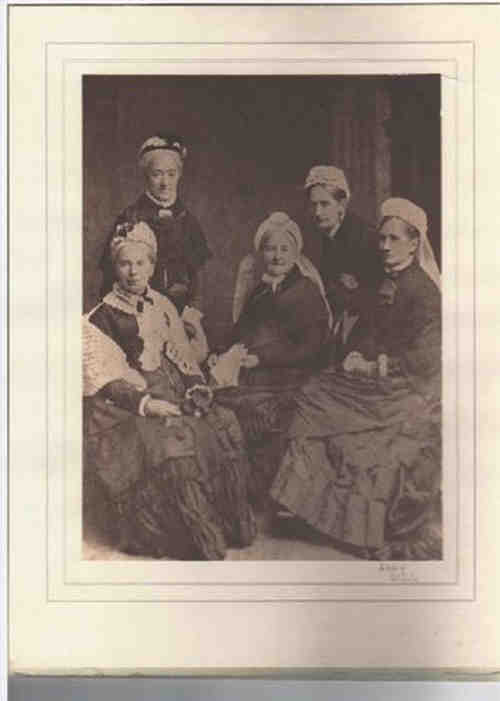 Gerald married Mary Florence ARMSTRONG [9793], daughter of Genl., Alexander ARMSTRONG, Royal Irish Artillery [22421] and Jane CLARKE [22440], in Ireland. Mary was born circa 1814 in Ireland and died on 20 May 1904 at age 90.
General Notes: In an e-Mail from Alan Turner, received November 18, 2011, he included the following Transcript of a Letter:

The following is a copy (original spelling and grammar) of a single undated letter written by Mary Beere, wife of Rev Gerald Beere. This was written to sister Ellen somewhat later in Mary's life, probably the mid 1860s, as it refers to Fanny Bell in a way that suggests her recent arrival in New Zealand which occurred in December 1862.
Dearest Ellen,

Your work is perfectly beautiful, quite beyond anything I have seen, you must command the fairies to able to get such variety of beautiful beads. They are unknown in these parts, and then the fringe is exquisite and to crown all, the taste and execution, you are a wonderful being, and quite worthy of Nan the painter, or rather artist, how strange it seems ladies now becoming professional artists one of the Miss O'Briens of Carmoyle is preparing for such. I would have sent your box back this afternoon, but that the horses were busy putting down the oats, but tomorrow I hope to do so - and thank you so much for allowing, me a peep to gratify my old eyes - for though old I am I appreciate tasty articles - your home must be lovely, how darling Margtta must enjoy it.

I know that Mrs Butler very well, she was a most agreeable cheerful person, but poor Gerald never could admire her, as she wore a crop, a very remarkable thing, in my earlier days - her crop and Maria Edgeworth's tossham were quite remarkable.
I had charming, letters from New Zealand yesterday, only imagine Fanny being in Wellington as gay as a lark - she took two black thorn sticks to Holroyd and Villers, and when Estelle went for them she was quite surprised to find such a lively volatile aunt, instead of an anxious sober-going one. She is to pay Holroyd and Mary a visit before she returns to Gisbourne.

Holroyd's eldest son, who was never trained to the law has been offered, three years training in Christ Church University 150 pr.an. to fit him for the Church, by a friend who saw what his bent was. It was very kind, and has been accepted, tho Mary is breaking her heart about it, his pay was such an addition to their income, and he was such a help at home.

Yes, I remember all about Drogheda, we often drove there on Saturday to bring Neuon home from school for Sunday. Lord Gormanston too, who brought the
salver presented to our dear Father into our schoolroom.

You did not write to me from Julianstown, and 1 shall be glad to hear of John and his family. I send the only papers I have relating to our beloved Father, you can return them when convenient. In our earlier days we never thought about Pedigree, we were quite satisfied that we came of decent people, and both Father and Mother moved in the highest circles and kept a very hospitable house. The first idea that entered my mind on the subject was a gentleman calling on me requesting to know how I was connected with the Minchins - as the Rich Joe Gabbett was about to have his daughter (a millionairess) married to Mr. Dickinson England and his family were particular about pedigree - so I wrote to Revd. Robert Gabbett who referred me to the Lloyds of Beechmount and hence all my knowledge.

Now with love to each and all, ever your fond sister, Mary.

Julianstown mentioned in this letter is near Drogheda north of Dublin. A note written at the bottom of the letter reads as follows:

"Our grandfather was Quartered in Kildare and met our Grandmother at the Duke of Leinster's. She was a Princess in her own right, but Swiss Princesses were not much thought of at the time as every province had its Prince and Princess."
Children from this marriage were:
+ 2 F i. Margaretta Jaques BEERE [9794] was born about 1831 in Kilbixy Ballynacargy West Meath Ireland and died after 1868.

+ 3 M ii. Alexander Nenon BEERE [9803] was born about 1832 in Kilbixy Ballynacargy West Meath Ireland and died in 1892 in Adare Limerick Ireland aged about 60.

4 M iii. Daniel Manders BEERE [9795] was born on 1 Oct 1833 in Kilbixy Ballynacargy West Meath Ireland and died on 26 Sep 1909 in Melbourne VIC Australia at age 75.

General Notes: Civil Engineer

He was part of a Toronto, Canada, firm with William Armstrong (his uncle)of 'Civil Engineers, Draughtsmen & Photographists', and were joined in1856 by Humphrey Lloyd HIME. He became a partner between 1856 & 63.

Came to NZ in 1863 with his brother, Gerald BEERE, in the 'Helvellyn'which sailed from London on 14 July 1863, arriving in Auckland 16 Nov.

Was doing photographic work in Auckland in the 1860s. He is mentioned in the 'Dictionary of NZ Biographies V.2' His photographs of the Port ofAuckland in the 1860s were displayed at a Centenary Maritime Exhibitionthere in 1961 - believed to be in the Auckland City Archives. Manyphotographs also in Turnbull Library in Wellington.

He settled in Melbourne about 1886. In 1890 he visited England &Ireland, then travelled and worked extensively in Australia. He diedsuddenly in All Saints Church, Melbourne, on Sunday 26 Sept. 1909.

Probate filed 15 Nov. 1909 Wellington Court. Probate No. 12432 -National
+ 5 M iv. Capt., Gerald Butler BEERE [9796] was born on 1 Mar 1836 in Kilbixy Ballynacargy West Meath Ireland and died on 13 Mar 1914 in Devonport Auckland New Zealand at age 78.

+ 6 M v. Nenon Francis BEERE [9797] was born about 1837 in Kilbixy Ballynacargy West Meath Ireland.

+ 7 M vi. George Armstrong BEERE [9798] was born on 9 Feb 1839 in Kilbixy Ballynacargy West Meath Ireland, died on 27 Mar 1915 in Makaraka Gisborne New Zealand at age 76, and was buried on 29 Mar 1915 in Makaraka Cemetery Gisborne New Zealand.

8 M vii. Llewellyn James Molyneux BEERE [9799] was born in 1841 in Kilbixy Ballynacargy West Meath Ireland and died in 1850 in Ireland at age 9.

+ 9 M viii. Edward Holroyd BEERE [1647] was born on 4 Jul 1843 in Kilbixy Ballynacargy West Meath Ireland and died on 1 Jul 1906 in Seatoun Wellington New Zealand at age 62.

10 M ix. Villiers Walter BEERE [9800] was born on 10 Dec 1849 in Kilbixy Ballynacargy West Meath Ireland and died on 13 Sep 1893 in Australia at age 43.